goCabinets adds Design Tool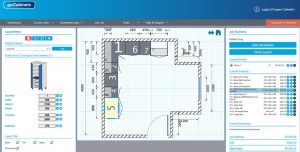 It has been a busy 12 months for the goCabinets team, with a push in development bringing several new and improved features into the free-to-join ordering system. Adding to the arsenal of tools available to goCabinets members is a new fully interactive design tool that displays the plan view layout of cabinets being ordered – all from a room shape that is specified by the user.
Changes can be made in real time to cabinet specifications from the room view, which interacts immediately by displaying live pricing updates for each product as alterations are made. The design tool includes a printable PDF of the design created by the user, along with an accompanying product list; all of which are coordinated with clear product numbering for easy reference.
'The design tool has really helped our customers in adding a more visual element to their order, which ultimately inspires confidence that what they are ordering is what they need' mentions Justin Collins, goCabinets Project Manager. 'Our customers are particularly enjoying the PDF which can be used as a reference point for either themselves, or for their installers when they are on site'.
A customer can begin creating their design in one of the pre-set rectangular or L-Shape room layouts, or can start from scratch and draw a custom room according to their client's specifications. Inner walls, windows and doors can all be added through the design tool to ensure visual accuracy and enable the customer to make allowances for the existing structural elements within the room.
'It is perfect for our manufacturers: not only can they accept an order for cut-to-size cabinetry online, but now they are also providing their customers with access to a free design tool from which they can also order and track all of their jobs.'
The goCabinets Design Tool is available now and free to use for all goCabinets members. Register today for FREE!