WoodCAM IS A DESIGN AND MANUFACTURING COMPUTER SOFTWARE PACKAGE FOR CABINET MAKERS AND JOINERS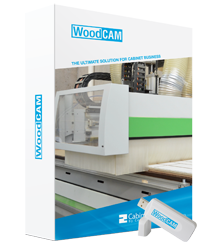 Check out our quick overview video above on how WoodCAM can help streamline your cabinetry business.
INTRODUCTION
WoodCAM (Woodworking Computer Aided Manufacturing) is a design and manufacturing computer software package for cabinet makers and joiners. Created to streamline the entry of cabinet specifications. It does this by presenting a selection of cabinet styles for each job and room, from a library of standard joinery product templates. The operator enters dimensions, door and drawer specifications including handle type and location, shelf configurations, applied end panels, etc. Reports are produced including:
Cut lists
Costing analyses
Hardware requirements and more.
INVALUABLE TIME SAVING
WoodCAM is designed to save you time.
It is incredibly easy to enter a new cabinetry job using this versatile CAD/CAM software. From simple jobs to the most complex, WoodCAM has an intuitive, step-by-step process that any person who understands the trade can use.
All dimensions and drilled holes are automatically generated – so you don't have to calculate part sizes yourself!
HOW DOES WOODCAM WORK?
WoodCAM has been developed to make the entry of designs and specifications into Microsoft Excel spreadsheet templates easier to automate the processing of your designs, to create a cut list to be sent to the machine for cutting. Wherever possible, WoodCAM reduces any need to re-enter the same information for each cabinet in a room.
WoodCAM presents a screen where details that are common to the entire job are entered once. This screen comprises three main sections:
Top Section: The job details are entered into this section and include the customer order and delivery information. These details are entered only once and remain on screen for reference during all other entry.
Middle Section: The room details are entered including the room style and materials used. These details are entered only once for each new room and remain on screen for reference during Item entry.
Bottom Section: The cabinet item details are entered including dimensions, fittings and accessory options.
Note: Once entered, the details can be exported to a panel viewer screen to show bore details, hinge locations, edging details, etc. before you cut the job. Thus preventing mistakes and wastage.
GREATER PROFITABILITY
A key benefit of WoodCAM is the accuracy with which it generates quotes. It produces job costings with every screw, hinge, metre of edge tape and board accounted for – so you know exactly what it will cost your business, and don't experience the cost blow-outs typical of manually calculated jobs.
WoodCAM Popular Features
WoodCAM has been created to streamline the entry of cabinet specifications and to automate the distribution of cutting lists to CNC machines such as Flatbed Routers and Saws.
CUTTING LIST
Input the the job and WoodCAM quickly procures an accurate cutting list down to the millimetre.
ACCURATE COSTINGS
Produce job costing reports with the click of your mouse or drill into more detail by specifying your own hardware, materials and manufacturing costs.
DETAILED QUOTES
Add your margins to the job and generate a detailed quotation for your customer with the touch of a button.
STOCK CONTROL AND ORDERING
Monitor quantities of stock on hand and automatically reorder products that are running low. Items to be ordered are sorted into suppliers and an individual purchase order is generated.
REPORTING
Produce a variety of reports that are useful for the everyday running of your business. Things like cutting lists, outsourced products (e.g. vinyl or painted doors), picking lists for hardware or a history of your customers.
DATA SHARING
Networked computers can be set up to access a centralised database, and any changes made to a job will be automatically detected, updated across the system and backed up daily.
TIME SAVING TEMPLATES
Create templates using default settings for cabinets you use on a regular basis. This further reduces the amount of time it takes to create new jobs, and allows you to use any previous room as a starting point when entering a new room.
PART TRACKING
Trace all components as they progress through the factory until delivery. This feature accurately calculates the time required for each stage of the job, which enables you to keep track of the efficiency of the job as it passes through your workshop.
EXTENSIVE LIBRARY OF CABINETS
WoodCAM comes with a built-in library of the most common cabinet maker items, saving you time and money on entering these items into your system. These spreadsheets provide a parts list of all materials and accessories which may be used as a 'Packing List' for assembly / delivery.

WoodCAM ONLINE ENQUIRY
Have a enquiry? Please give us a call or send us an email, we will be happy to answer any question you have about WoodCAM and explain in further detail how it will help you save time and improve productivity of your business.
WoodCAM is Compatible with these brands
WoodCAM is guaranteed to work with all brands and models of CNC machines and computer saws, and automatically generates cutting lists for these machines.