Antoniou Cabinets KD Max 100% strike rate
KD Max: delivering a 100% strike rate when it comes to selling kitchens
Since Antoniou Cabinets started using KD Max kitchen design software in 2011, it has won the business of every single customer it has shown the KD Max drawings to.
This is an impressive strike rate – and it really demonstrates the visual power of the KD Max software tool. For owners Con and Androula Antoniou, the software has been a boon to the business, and they look forward to using it more and more into 2013 and beyond.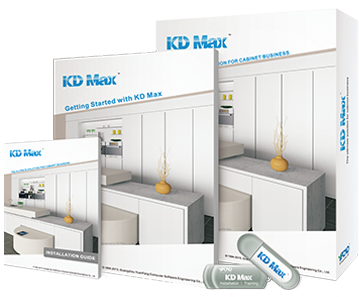 Changing the way they liaise with customers
Antoniou Cabinets, in Bayswater, Victoria, deals directly with residential customers. No builders or architects are involved in the business – and they very much rely on word-of-mouth referrals.
The small business makes "anything square" for its customers, such as kitchens, wardrobes, vanities and entertainment units. At any one time, Con and his two employees may be working on three or four projects – the ideal amount for a company of their size.
In the past, Con would visit a customer site and sketch ideas on paper. If people wanted a better idea of what they'd be getting, he'd take them to homes whose kitchens he has previously installed.
"While this still works to some extent – and we are very lucky that Con forms great relationships with our customers, so they let us bring other people into their homes – we wanted an easier way to show new customers what they'd be getting," said Androula.
To solve this problem, they invested in KD Max, the powerful but very simple kitchen design software that helps to sell the visual idea of a kitchen or other piece of cabinetry before construction commences.
Now, if a customer wants to see what their kitchen will look like, Androula draws it on KD Max. To date, every kitchen she has drawn using the software has been sold to the customer.
Great support and simple to use
For Androula, the best thing about KD Max – apart from its selling power – is its ease of use.
"KD Max has been so easy to learn. I am not a computer person, but I have picked it up very quickly," she said.
"What's more, the service and support provided by Cabinets by Computer has been absolutely amazing. They don't sell the software and then forget about us – rather, James has always been available to answer my questions and provide useful guidance."
Indeed, upon the recommendation of Cabinets by Computer, Androula cut her teeth on KD Max designing the new kitchen and laundry of her own new home – which has since been built.
"I am very impressed with how realistic the pictures were. What we see now in our new home is very close to what I originally drew," Androula said.
With KD Max installed on the work computer and Androula's laptop, the sky is now the limit in terms of how Antoniou Cabinets uses the software to help win new business – and secure stronger relationships with their existing customers thanks to the great service they can provide.