WoodCam & PackIT Review
Rod Tyson from Aneka Kitchens reviews WoodCam.
Based in Canberra, Aneka Kitchens has been in business for 21 years. During this time, the team has seen many changes in the industry. The change that stands out the most? Recent advances in IT software and automation.
"Software and system automation have become critical to operating a successful business," explains owner Rod Tyson. "What with imports and major hardware chains – plus the recent economic slowdown – having a major impact on our industry, it is more important than ever to have good automation systems in place to reduce manufacturing costs and produce a better product."
"It's all about remaining competitive," says Rod.
Here, Rod examines the ways that WoodCAM and PackIT – the highly automated cabinetry software and nesting and labelling software – has transformed Aneka Kitchens and helped them remain one step ahead.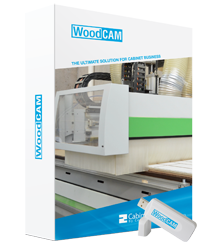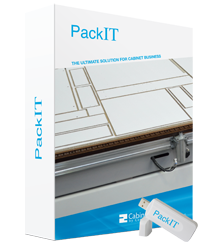 WoodCAM Review: Less staff, higher outputs
"The better the software and automation processes you have, the less staff or 'skilled' staff that you need. With less staff, there's less stress – finding, training, keeping and monitoring staff is a big job," he says.
By automating processes, and purchasing automated machinery and accompanying software, the resourcing burden is reduced.
"It's all about remaining competitive," says Rod.
At one point Aneka Kitchens employed 15 staff. Since WoodCAM and PackIT were implemented three years ago, the cabinet maker employs only five staff – yet achieves higher production output and more revenue.
Aneka Kitchens uses an Anderson full nesting cell which labels the boards, auto-loads, machines and auto off-loads. This machinery is useless without great software to run it – so Rod installed WoodCAM cabinetry software and PackIT labelling and optimisation software from Cabinets by Computer.
"The more I thought about the advantages of auto-labelling, the more I realised that it was a 'must have' for the business. PackIT is the best software for auto-labelling – the material yield that  I now get exceeds that of our previous optimising software, saving me money," says Rod.
Now, Rod couldn't be happier with the Anderson full nesting cell and the software from Cabinets by Computer. "The labelling has eliminated factory mistakes and reduced labour costs. Indeed, the whole system works better today than it did when it was first installed, as we have made some software advances like Face 6 (or 'Flip Part') machining to further improve efficiencies."
Batch Processing Review
Batched processing – combining jobs to improve the material yield and save time – has also been successfully implemented at Aneka Kitchens. Instead of completing jobs one at a time, Rod and his team create 'batch jobs' of up to seven individual jobs and complete them together.
"It is great for handling a lot of small jobs, or a job that has a terrible material yield. Wastage drops right off, and we see far fewer off-cuts on the factory floor," he says.
"This year alone, none of the full-sheet carcases we cut had a material wastage of more than 10%. Most of the time, the material wastage was only between 4% to 6%. This is a fantastic result."
The key to batch processing? WoodCAM. Rod uses the automated cabinetry software to manage batched processing quickly and efficiently.
"WoodCAM is streets ahead of the competition. Another software company didn't believe what we were doing with WoodCAM – so I invited them in to see for themselves. When they saw the optimisation pattern running at that time, they were incredibly impressed with the cutting layouts, admitting that their software couldn't get anywhere close."
Batch processing relies on the ability to prioritise jobs. Some jobs must be cut immediately, others can wait. Rod relies on WoodCAM to create an ongoing, efficient cycle that is easily managed and returns material yields well above industry standards.
For Rod and his team, the process of prioritising jobs and batch processing is simple – all the hard work is done behind the scenes using WoodCAM and PackIT.
Each job gets evaluated, and if it's not urgent it gets loaded into the PackIT optimiser and stored in the 'Rest Pieces' area, along with any other jobs or parts of previous jobs that don't need to be cut straight away. Urgent jobs are optimised right away.
Optimised sheets are displayed on WoodCAM with their yield percentages, and any with a wastage yield percentage of more than 10% are sent to the 'Rest Pieces' area.  Materials in this area are re-prioritised and used for any remaining parts for the job, with PackIT automatically re-optimising to ensure current jobs are in the first few sheets to be cut (batched with any other non-essential parts to achieve a very high material yield).
Aneka Kitchens Review on WoodCAM: Face 6 (or Flip Part) Machining
A great example of how automation software like PackIT can help to improve production is in the work that Cabinets by Computer did to adapt the software for Aneka Kitchens' Face 6 machining process.
With Face 6 machining, you drill/machine not just the face but the rear of a panel as well. It is used in door and drawer front manufacturing, where you need to drill for the hinge holes and drawer mount holes on the rear side and then spin the door or drawer front over to machine the face profile and edge profile.
Rod wanted to use Face 6 machining for general carcase parts, for example machining (drilling) vertical partitions within a cabinet on both sides.
Cabinets by Computer worked with Rod to adapt the PackIT software to not only make this possible, but to automate the process within the Anderson nesting cell. Now, whenever parts require Face 6 machining, they are automatically handled into the optimising software like any other part. They are given a higher priority so they are in the first sheet or sheets to be cut. Any remaining space on a sheet is automatically filled up with any non-Face 6 parts to achieve a great material yield with minimal wastage.
After the sheet is drilled/machined on the Face 6 side, it is automatically squared up on the Anderson nesting cell and loaded back to the labeller, where it is turned over so the rear of the sheet is then labelled and run through the cell as normal.
According to Rod, this has eliminated the possibility of 'human error'. "It is now a simple automated process that I don't need to worry about."
WoodCAM: Open Database for Easy Customisation
WoodCAM is written using an open database, which makes it easily customisable.
"One of the main reasons we switched from a competitor's software to WoodCAM was because it has an open database. I don't like to be locked into someone else's way of doing things," explains Rod.
"It's all about remaining competitive," says Rod.
WoodCAM gives Rod and the Aneka Kitchens team the ability to create additional fields in the database – great for customising now and adapting the software in the years ahead.
"WoodCAM ticks all the boxes for me and lets me control my own destiny," says Rod.